Date: Saturday 23 September
Time: 3 pm – 5 pm
Language: English
Entrance: Free + 1 free drink token. Reserve your spot by sending an email to: evenementen@cobra-museum.nl
Machismo: ways of seeing Picasso
A conversation about the man, the myth and 'his' models.   
The year 2023 marks the 50th anniversary of the death of one of the most famous artists of the 20th century: Pablo Picasso (1881-1973). This summer the exhibition The Other Picasso. Back to the Origin is on show at the Cobra Museum. Next to numerous exhibitions in museums and cultural institutions worldwide celebrating the artist and his work, more and more critical views on the artists personal life and the stereotypical way Picasso portrays women in his work also appear. The artist himself admitted treating them as 'goddesses or doormats'.

In this context the Cobra Museum organizes Machismo: ways of seeing Picasso. A conversation about the man, the myth and 'his' models. During the conversation we'll talk about Picasso's image as the archetypical machismo artist and how that is reflected in his work. We'll also shed light on the women he depicted in his work. Who were they actually and what was the artist-model relationship? And, can we today still view and appreciate his work in the same way as we used to? Can we see his work separately from his personal life and actions that in many cases had disastrous consequences for the women in his life? And is there also something positive to say about machismo behaviour? From various perspectives we'll cover different ways of seeing Picasso's work and life.
Experts
The conversation is moderated by Linda Duits. Naja Rasmussen joins and another two experts.
Linda Duits is a Dutch social scientist specialised in popular culture. She is interested in the interplay between media, meaning and identity.
Naja Rasmussen researched Picasso's machismo and how he related to (his) women and 'muses'. Rasmussen is chief curator at Kunstmuseum Brandts in Odense, Denmark.
Maaike Rikhof is Curator of Modern Art at the Frans Hals Museum in Haarlem. She specializes in art from around 1900, especially viewed from a social (gender- and queer-related) perspective. As guest curator, she curated the exhibition The New Woman at Singer Laren.
Jens van Tricht studied Political Science and Women's Studies at the University of Amsterdam and specialized in the changing role of men and masculinity in society. Van Tricht is founder and director-director of Emancipator, the Dutch organization for men and emancipation.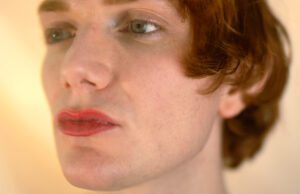 Performance by Leendert Vooijce
Leendert Vooijce is a performance artist and part of theater collective Female Economy. Leendert positions himself next to you, opposite you or with you in the limitations of language, concepts and understanding. To playfully tilt reality in order to create space for the alternative. Space for Space.