My Paint Tube is a Rocket
In this workshop, young people learn about the art of Karel Appel, music and the connection between painting and music. Furthermore, students learn to "paint with sounds," as Appel himself summarized it in 1961. Appel's works seem to "emerge," similar to sessions of Jazz musicians playing "in the moment. Students learn to paint spontaneously to their own brought music, which inspires them to paint sounds.
Practical information
For whom: all levels of secondary education
Duration: 2 hours
Theme: Art and music
Price: €200 per 15 pupils
(incl. museum admission)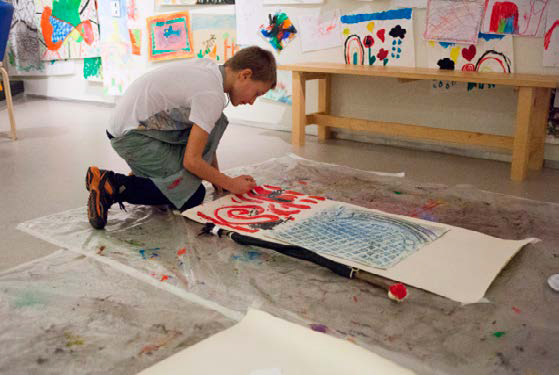 My roots, my story
During a short guided tour, students gain insight into how artists use their own cultural background in creating their work. This serves as inspiration for creating their own artwork during the workshop. Through this workshop, students interact with each other about their cultural background and create a mixed media style artwork in groups of two and three.
Practical information
For whom: all levels of secondary education
Duration: 2 hours
Theme: Art and music
Price: €200 per 15 students
(incl. museum admission)